COLLECTIONS
Outdoor Furniture Deals For Your Patio Makeover
3 months ago
It's hard to imagine spending time outside without the right outdoor furniture to compliment your space. Whether you're holding on to old pieces for practical purposes or just haven't found the time to upgrade to something new, there are plenty of options to choose from that won't have you saving pennies all year long. Summer 2021 is the ideal time to make a change in your backyard or patio. It's time you have a proper place to sit during the summer months, and an outdoor aesthetic that matches your humble abode.
While outdoor furniture ranges mostly from weather-resistant chairs to tables, there are also storage options and decorative pieces to add. You might have your eye on a new dining table and chairs or maybe you just need a more cohesive theme on your patio. Whatever the case, outdoor furniture is a great investment. Additionally, if you buy right, these pieces can last you for decades.
Check out these awesome deals on outdoor furniture in 2021.
What to have on your patio?
Every patio needs a good balance between function and comfort. You want the flow to accommodate your family without sacrificing design or quality. While there are a number of outdoor furniture options on the market, first you must narrow down the top items to include on your patio. For example, begin with where you'll sit.
Can you really enjoy an outdoor patio without seating? With no place to lounge and enjoy, you'll find yourself never wanting to spend time outside. The solution is to create a space that is inviting for all guests, a place that you could truly spend hours on end without running inside to the A/C.
The Polar Aurora 6 pcs Patio Set is the definition of comfort. It's practically a sectional couch for your patio. Both kids and adults will find reprieve on this outdoor furniture piece this summer.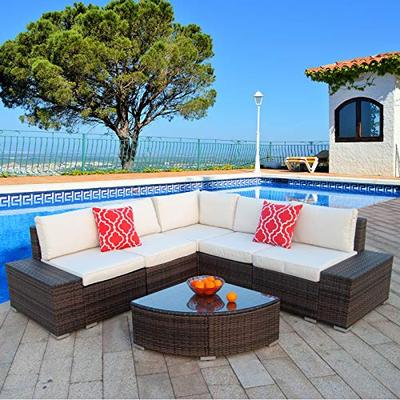 Image source: Price.com
For those who love to entertain, an outdoor grill is a must-have item on your patio. The Master Cook 3 Burner Grill is a great value for families on a budget. At $189.99, you can grill up a storm from this easy to use outdoor item. Remember to store it properly once finished grilling. A grill cover is the best option for those lacking a covered space.
While you're upgrading your patio from drab to fab, don't forget about lighting! Whether you choose string lights or enjoy the look of wall mounts, that's up to you. If you're looking for a budget friendly, stress-free option, the Solpex 12 Pack Solar Ground Lights are a beautiful addition to your patio. Absorbing the suns powerful rays all day will lead to a night of ambient lighting. However, remember the brightness will vary depending on weather conditions.
Who sells the best outdoor furniture?
Outdoor furniture comes in all shapes and sizes. Whether you're looking to fill a small terrace with quality furnishing or you have a large-sized patio to furnish, you don't have to break the bank to make things look nice. At the same time, it's okay to drop a few dollars on these pieces. It's an investment thats worth its weight in gold!
There is no debate on where to search for outdoor furniture, price.com will direct you to the best deals every week. Since retail prices are constantly changing, our system makes it easy to find the best deals on all types of outdoor pieces. Below are some of our favorite retailers to look out for on your search this summer.
Amazon, hands-down, offers some of the best outdoor furniture deals. With fair prices and easy delivery, it really is the best option for families balancing budget and time. Have a birthday party next weekend? No problem. They'll get your new outdoor furniture set delivered and assembled at cost in just a few days' time. Overall, you really can't beat the efficiency and quality that Amazon offers.
To name a few contenders, we recommend Overstock, DHgate, and Walmart too. Check out our best results for outdoor furniture today, and conveniently browse through the best pricing options at each retailer. In no time, you'll find a shopping cart of items for your patio makeover.
What type of outdoor furniture is the most durable?
From aluminum to cast-iron to wood, there are a wide variety of outdoor furniture materials available that are both durable and sturdy. Fortunately, buyers can find a range of prices as a result.
Most of the time your choice comes down to the type of design your favor most. Coastal, modern farmhouse, rustic, old-world; the options are endless. Of course, every buyer must consider the budget they've set in place. Since buying outdoor furniture can be overwhelming, its best to decipher what type of material works best on your patio. With so durable choices, you really can't go wrong unless weather is a major factor.
Wrought iron outdoor furniture is a timeless look. Its durable quality means homeowners can enjoy its use for decades with proper care and protection. As an added bonus, most newly made wrought iron pieces include rust-resistant finishes that maintain the standard of this popular outdoor furniture option.
Image source: Price.com
To match a wrought iron table, you can tie the whole look together with a few chairs and tables. The SOLAURA 3-Piece Set gives rocking chairs an elegant look at just $195.99. At low costs, you'll find your patio looking good as new with this material choice.
If wrought iron is not your style, try out aluminum seating or dining options for your patio. This material is a popular choice among outdoor furniture buyers for its cost. Its sleek look and durability make it an easy purchase for those with a more modern aesthetic. The Wisteria Lane Set in gray will completely transform your old patio into a place that no visitor will want to leave.

Image source: Price.com
With 5-inch thick padded cushions, this outdoor furniture set is a no-brainer for homeowners who spend a lot of time outside. The available 7 person seating arrangement is an excellent option for large families too.
What is the best weatherproof furniture?
When it comes to withstanding the test of time, there is no material quite like teak. This heavy-duty, hardwearing wood makes the best weatherproof outdoor furniture. Comparatively, it does come at a cost.
The Atlanta Teak Recliner makes the perfect addition to your patio. Made from 100% Grade A teak, this investment will last you for ages. The best part — the recliner adjusts to multiple positions for varying levels of comfort. Whether you want to read or soak up the sun, this weatherproof outdoor furniture piece will not disappoint.
Looking to keep the weatherproof effect for years? Invest in Bayes High Performance Cleaner to keep your teak outdoor furniture looking flawless At just $6, this cleaning solution will protect the wood from getting dry, cracked, or grayed from harsh climates.
Image source: Price.com
Even if you've neglected your patio pieces for some time, this awesome solution will quickly bring it back to life. With a little shine, your weatherproof furniture will look straight out of a showroom.
If teak furniture is not your thing, another great weatherproof option is resin wicker. Most wicker outdoor pieces last up to 10 to 15 years. Talk about a good investment! In addition, you can find awesome deals on resin wicker sets at various online retailers. For example, the Keter Wicker Patio Set comes equipped with two chairs and a side table for just $173.44. It's a deal that's hard to beat when shopping for new patio items. Weatherproof and budget-friendly? Whats not to love.
Price.com has everything you need and more for outdoor furniture
Why shop with us? We help you maximize your savings and earn cash back from thousands of retailers. Get up to 40% cash back from specific retailers. It's even easier now to save money with price drops and comparison shopping features. Head over to Price.com to begin shopping for outdoor furniture today!
About Price.com
Price.com, the all-in-one money savings platform, provides a free cross-platform experience for consumers that combines advanced comparison shopping, cashback, coupons, price history and price drop alerts. The Company's patented, AI-powered matching algorithm enables real-time discovery of new, white label, used, local, refurbished, and rental products – taking comparison shopping to new heights. Price.com is available as a desktop and mobile website, browser extension, native app and chatbot.
The Company's core team consists of industry-leading data scientists and data engineers. Price.com founder RJ Jain sold his previous company to Google where today it powers Google Test Labs. Previously, he held senior engineering roles at Sidecar (acquired by GM) and Zynga, and served as an in-house Entrepreneur in Residence at Foundation Capital.