COLLECTIONS
Affordable Beach Packing Items You Won't Want To Forget
3 months ago
Pick up the phone and call all of your loved ones. There is only one way to celebrate summer 2021: with a fun-filled day at the beach! Whether you plan to oasis at home or jet off to a tropical destination, the beach is the perfect place to ease your worries. After a stressful year, it offers an opportunity to escape and enjoy life from one of the happiest places on earth. No we don't mean Disneyland, we're talking about the beach!
In order to do a beach day right, there are certain items you need to bring along. From beach chairs to waterproof storage, you can't go wrong with the items listed below. Each of these must-buys will not only add convenience to your beach day, it will make it an unforgettable one too. On top of that, most beach packing items retail at an affordable price so the deals are endless.
Check out the best beach packing items for summer 2021.
What should you not forget at the beach?
Once your feet touch the sand, it's hard to imagine ever leaving. The tranquility of a sunny beach day is irresistible; even the most stressed out of folks will find some relief. While getting to the beach is easy, there are select items you should not forget. For those who crave comfort, a beach chair is an absolute must.
The GCI Outdoor Beach Chair is the ultimate find for those who frequent the beach often. This awesome buy reclines and comes equipped with a sunshade to block off the sun's harmful rays. The best part — the beach chair converts to a backpack for easy mobility. At $84, it's an investment that will last you summer after summer.
Looking for something that seats two? Check out the Tommy Bahamas Set. It includes two beach chairs adorned in its trademark tropical flair. This popular set comes with a storage pouch and towel bar. Just as the brand boosts, you'll have no problem relaxing in these beach chairs.
If you're looking to keep things economical, the WIWIGO Beach Blanket is the best choice. It can accommodate a lot of people which makes it ideal for large groups. Not only will it keep you protected from the hot sand, there is plenty of room to set up a picnic for friends and family to enjoy.
On that note, forget the days of dragging a cooler through the sand, an insulated backpack is the way to go.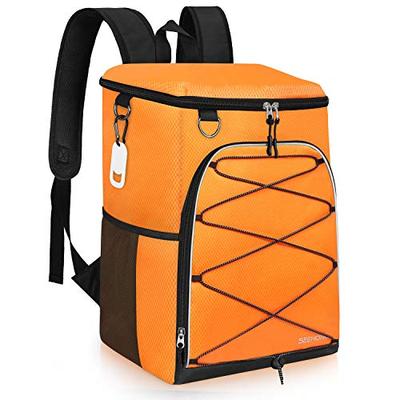 Image source: Price.com
With easy access and a lightweight feel, any person will willingly volunteer to carry this pack. It is the best addition to your next beach day, with ample room for snacks, refreshments, and pre-made lunches. At prices as low as $21.66, families can afford to make the switch without sacrificing size.
Trust us, this is one item not to forget at the beach. With blistering temperatures, every beachgoer will appreciate having convenient storage to keep refreshments cold.
What are fun things to take to the beach?
Beyond the salty aroma and transcending views, the beach brings out the fun in us all. Make sure you don't leave the house without these items. Your family is guaranteed to be entertained for hours. In fact, most of these items appeal to all ages.
At $18.99, the Click N Play 18 Piece Beach Pack is the way to entertain your little ones this summer. With items including a bucket, shovel, rakes, watering can, and sand molds, your kids can build the sandcastle of their dreams. The buckets also make great storage for shell collecting along the shore.
Plan on spending the whole day at the beach? Don't forget to bring inflatable LED Glow in the Dark Beach Balls to enhance your level of fun this summer. This one of a kind beach ball will light up your evening and leave your family with plenty of activity when the sun begins to set.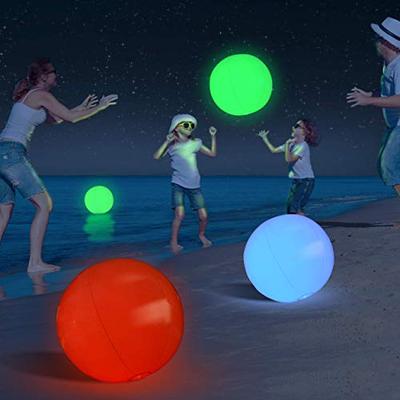 Image source: Price.com
At an affordable price of $19.99, families can make any beach day a true party. With a range of color options, you can turn a tranquil day at the beach into a day of celebration thanks to these inflatable beach balls.
The Matty's Toy Stop Toss & Catch game is a great way to get the family moving. Once you've exhausted swimming in the ocean, this game set will keep the fun going on solid ground. Allowing up to 4 players, kids and adults can take part in a care-free game of catch.
If you're looking for fun and exercise, the SereneLife Paddle Board is the optimal choice to take to the beach. This purchase comes equipped with a convenient bag to carry the paddle board to and from the beach.
Image source: Price.com
There really is no better way to have fun than trying out a new toy. This inflatable paddle board comes with anti-slip padding making it a great buy for first time paddle boarders. After one try, it's likely you'll be hooked. You'll never want to forget this item next time you go to the beach.
Must-haves for the beach
When it comes to beach packing items 2021, there are a few essentials that you can't go without. In addition to a beach towel, here are the small but important must-haves items to improve your beach experience from the start.
First and foremost, sunscreen is a must-have item to bring to your next beach day. Whether you like the spray-on verizon or need extra SPF coverage, there are plenty of options available. Choose the best one that compliments your skin sensitivity. Maybe you're even looking for one that creates instant bronzing. The options are infinite when it comes to skin care.
The Banana Boat Ultra Sport Pack provides excellent coverage with up to 80 minutes of water resistance. It's easy to apply and with 50 SPF, you'll be making the right choice to keep your skin protected from the heat. This option comes in a set of two, so you'll have a back-up in case you run out.
A waterproof speaker is another must-have item for beach goers looking to have a good time. It's true that music can liven up any day at the beach. This means, bringing along a speaker with bluetooth connection is an easy way for your family and friends to connect and have fun.
Don't miss out on these items next time you head to the beach!
What should I not forget to pack?
If you like to keep things simple, these beach packing items are the ones to never forget. Traveling light means you can worry less about your stuff and focus more on those captivating blue hues.
When facing the heat, hydration is key. The Takeya Insulated Water Bottle will keep your water icy cold while you soak up the sun. You won't have to fret over having enough either. With 32oz of liquid storage, you'll have enough water to last you all day. To boost, it keeps your beverage cold for up to 24 hours.
Another item to never forget is a beach bag. At prices as low as $17.99, you can find a multifunctional bag that can endure wet surfaces. For example, an extra large mesh tote bag makes the perfect beach accessory. With multiple pockets, you can safely store your phone, wallet, and other important valuables.
Worried about your phone getting wet or sandy? Use the JOTO Waterproof Pouch to keep your mobile protected. You can even store your credit cards or loose cash in this waterproof case.
Image source: Price.com
For summer 2021, the only way to do a beach day is with convenience and fun in mind. Remember what to not forget at the beach so you and your family will have a stress-free day of sunshine this summer.
Price.com has everything you need and more for beach packing items
Why shop with us? We help you maximize your savings and earn cash back from thousands of retailers. Get up to 40% cash back from specific retailers. It's even easier now to save money with price drops and comparison shopping features. Head over to Price.com to begin shopping for beach packing items 2021.
About Price.com
Price.com, the all-in-one money savings platform, provides a free cross-platform experience for consumers that combines advanced comparison shopping, cashback, coupons, price history and price drop alerts. The Company's patented, AI-powered matching algorithm enables real-time discovery of new, white label, used, local, refurbished, and rental products – taking comparison shopping to new heights. Price.com is available as a desktop and mobile website, browser extension, native app and chatbot.
The Company's core team consists of industry-leading data scientists and data engineers. Price.com founder RJ Jain sold his previous company to Google where today it powers Google Test Labs. Previously, he held senior engineering roles at Sidecar (acquired by GM) and Zynga, and served as an in-house Entrepreneur in Residence at Foundation Capital.